Shannon Miller Announces She's Pregnant with Baby #2!
Author: Shannon Miller Lifestyle
January 14, 2013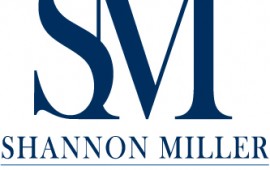 FOR IMMEDIATE RELEASE

Please direct media inquiries to:
 Lauren Domené
Shannon Miller Lifestyle
Ph: 877-344-8502
Email: lauren@shannonmillerlifestyle.com
GOLD MEDAL GYMNAST, SHANNON MILLER, ANNOUNCES PREGNANCY AFTER CANCER
Two years after surgery to remove a malignant tumor followed by chemotherapy,
f­ormer gymnast expecting miracle baby

JACKSONVILLE, Fla. – January 14, 2013 – From England to Hollywood and now to Jacksonville, the baby announcements have been forthcoming. Now, seven-time Olympic medal gymnast, cancer survivor, and President of Shannon Miller Lifestyle, Shannon Miller, has announced she is expecting a miracle baby! This comes just two years after Miller was diagnosed with a rare form of ovarian cancer.
After surgery to remove her left ovary and the malignant tumor, Miller received nine weeks of aggressive chemotherapy to give her the best chance of survival and non-reoccurrence.
In 2011, Miller and her husband John Falconetti, President of The Drummond Press, had hoped to expand their family. Miller says, "Things were going fantastic with the launch of my company, Shannon Miller Lifestyle, my foundation was growing and we hoped our family would expand as well. Then my world stopped. Instead of calling my parents to tell them they had another grandchild on the way, I was calling to tell them I may have cancer. Our baby plans were put on hold indefinitely."
Miller is now cancer free and excited about this next chapter. "I've been blessed to have the opportunity to do some amazing things in my life, but being a mom is second to none."
Miller continues her mission of helping women make their health a priority through her company Shannon Miller Lifestyle which focuses on health and wellness for women. She is taking a playful yet informative approach to pregnancy with her new blog: from sharing ways to announce a pregnancy or gender, to handling the not-so-much-fun parts of pregnancy, she'll discuss issues that real moms face.
 Interesting Points:
Miller had surgery to remove a germ cell tumor (a rare form of ovarian cancer) on January 13th, 2011.
After surgery, Miller's left tube and ovary were removed, and she began an aggressive chemotherapy regimen. Miller faced the reality that she may not be able to have another child.
Many people don't realize Miller and her husband were hoping for a second child when doctors discovered the cancer. Miller had considered postponing her appointment due to a busy schedule.
Shannon and her husband will be expecting their second child in summer 2013. Their first child is son, three-year-old, Rocco.
ABOUT SHANNON MILLER LIFESTYLE
Miller launched her company, Shannon Miller Lifestyle: Health & Fitness for Women in 2010 in an effort to use her voice along with her personal trials and triumphs to help women make their health a priority. Through her products, public motivational speaking, a weekly call-in radio show, and website, Shannon focuses on opening the lines of communication. She wants to remind women that it is okay to ask questions, demand answers, support each other and have fun along the way. Shannon Miller Lifestyle is targeted to women of all ages and backgrounds with a focus on pregnancy & motherhood, mompreneurship, health & wellness, and all-around fitness.
Contact for Media Inquiries, Speaking, or Endorsement Opportunities:
Lauren Domené
Shannon Miller Lifestyle
Lauren@shannonmillerlifestyle.com
877-344-8502
###
Leave a Reply
4 Responses to " Shannon Miller Announces She's Pregnant with Baby #2! "
Shannon Miller, Olympic Gymnast, Welcomes Baby Girl Sterling Diane With Husband John Falconetti | Celebrity News & Alerts Says:

Congratulations to Shannon and little Sterling Diane, and family, from Celebrity News and Alerts!

weebly.com Says:

Everything is very open with a clear explanation of the challenges.
It was definitely informative. Your website is useful. Thank you for sharing!

Year End party Singapore Says:

Hey There. I found your blog using msn. This is a really well
written article. I'll make sure to bookmark it and return to read
more of your useful info. Thanks for the
post. I'll definitely comeback.

A2ETO Blog Says:

December 11th, 2013 at 1:36 pm

Wow that was strange. I just wrote an very long comment but after I clicked submit my comment didn't appear.

Grrrr… well I'm not writing all that over again. Regardless, just wanted to say excellent blog!